Raven MLR Carbine BK

The Raven ORE Series is built with high standards and specified to meet the demands of advanced players. The rifles consist of durable full metal body and high performance parts. Choose from the wide selection of models to suit your needs!


Each rifle is equipped with our LEVIN metal gearbox that is precisely made and equipped with high-quality internals to ensure durability. Each gearbox is equipped with Xcortech MOSFET, 16 gauge silver-coated wiring, high torque motor, full metal teeth piston, 8mm metal bearings, and true quick spring change system, etc.

The MLR's design is simple and straightforward with practicality and lightweight as the main design concepts. This design offers a slim and uniform profile along the entire length of the forend. The MLR offers multiple QD sling attachment points at the front and rear ends of the forend and M-LOK rail systems along the full length of the bottom and sides for various accessory mounting options.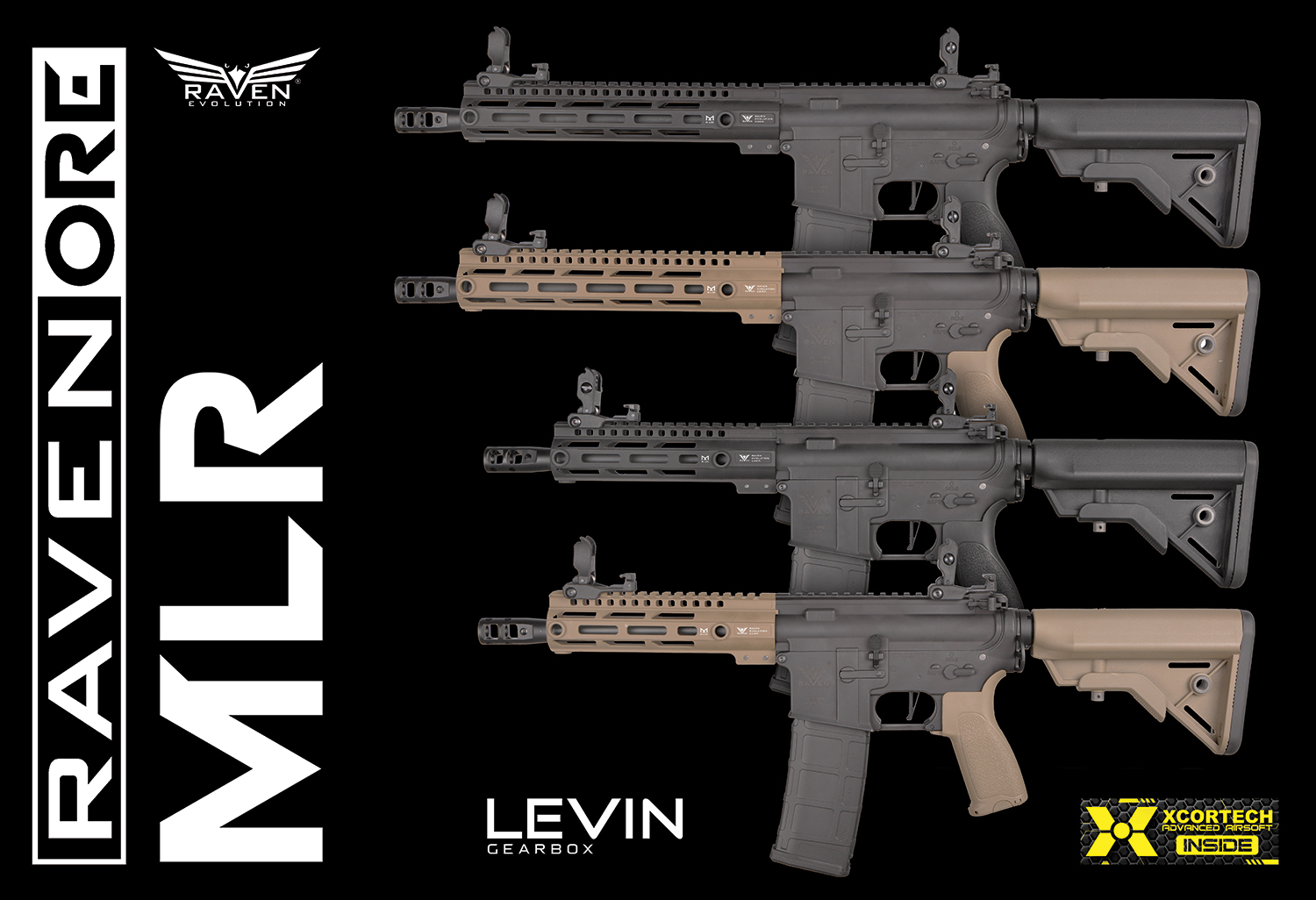 Externals
Front End Length
~310mm
Grip
Polymer pistol grip
Handguard Length
~265mm
Mag Catch
Right Hand
Overall Length (Stock Extended)
~800mm
Overall Length (Stock Retracted)
~715mm
Receiver/Body
Aluminum alloy body with deep engraving
Selector
Right Hand
Stock
Polymer B style
Weight
~2.3kg (Excluding Magazine)
Internals
Battery
11.1V Lipo (Graphene Not Recommended)
Bushing / Bearings
8mm Bearings
Gear Set
18:1 Gearset
Gearbox
Full metal with true quick spring change, Standard V2 Compatible
Hop-Up chamber
Polymer rotary
Inner Barrel Diameter
6.03mm
Inner Barrel Length
~285mm
Motor
high torque motor
Quick Spring Change
Yes. True quick spring change
Trigger System
Xcortech MOSFET